Good morning, and thanks for visiting Midnightdrummer.com today!
If you are new to playing drums, there are many questions coming up. Some refer to particular drum techniques, rhythms, drum fills and drum rudiments, others to the drum set and its pertaining instruments. 
Because it can be difficult to find a reliable resource, which answers your question right away, I created this resource page about all types of drums in a drum set.
If you cannot find the answer you were looking for, please leave a comment below.
Let's begin!
What drums are in a drum set?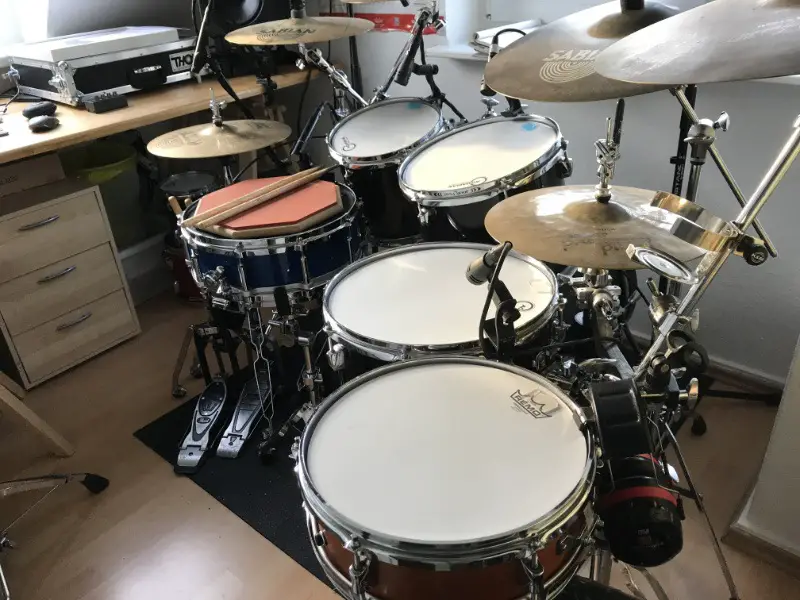 There are different kinds of drum set configurations consisting of different amounts of drums. In a 5-piece drum set, for example, there are 5 drums included: 1st. Snare drum, 2nd. Bass (Kick) Drum, 3rd. High Tom, 4th. Middle Tom, 5th. Low (Stand/Floor) Tom.
Different types of drums in a drum set
In my article about all drum set parts, I already mentioned a lot of the following drums which belong to a drum set.
Get your 1st drum kit!
If you are about to buy your 1st drum kit, here's one of the best places to go.
>> Sweetwater.com has hundreds of drum sets in stock starting at ONLY $369,- for a beginner drum kit.
In the following table you will find all types of drums in a drum set categorized by size and drum set configuration:
Extra and specialty drums
Apart from the standard drums shown in the table above, there are many specialty drums which can be added to any drum kit.
Here are a few of them:
Conclusion
Any drum set can be extended by any drum like tom toms, snares, and specialty drums.
The only reason to do or don't extend your drum kit is the sound you are aiming for. That's why you will discover as many drum set configurations as there are drummers on earth.
Which types of drums do you use at your drum kit?
Please let me know in the comments!
Talk soon and enjoy playing drums!